Phase 3 is COMING! Whether you are an event planner, or a parent looking for additional entertainment, phase 3 will bring with it new guidelines for all of us to follow. We here at Niagara Inflatables pride ourselves in helping our customers find the best product for their event, and are just as committed to safety procedures and cleanliness as ever!
As the Niagara Region and surrounding areas get the green light to move into Phase 3 with the rest of the province, we wanted to be sure you have the information needed to make proper decisions for your community & sporting events, business sales, festivals, fundraisers, birthdays, etc. 
Read more about the details of Phase 3 reopening by following this link.
Niagara Inflatables is OPEN! We are currently available for all rentals during Covid-19 with some adaptations. During this time, all bouncers will be cleaned while we set-up. You can read details of how cleaning works here. We ask that social distancing is respected while we are on site. What this means for all deliveries:
Please give us the details of where you would like the bouncer placed and where we will be plugging in the blower on the phone with our sales staff. OR
Let us know upon arrival, but please keep your distance – shouting works great!
If you have any specific information about your property that a delivery team would need to know, please let our sales staff know in advance.
Please keep children inside during set-up – we know they are excited to hop on, but for our safety please wait until staff have left the property.
Please direct children off the bouncer when it is time for pick-up. Normally we are happy to do this for you – but for the time being we need everyone to be cleared away so we can begin sanitizing and taking down the bouncer.
Make sure you are only letting children from your household (who have been in quarantine together) onto bouncers.
NOW FOR THE FUN STUFF!
Understanding many of our customers still have concerns regarding product safety during these times, we also wanted to highlight some of our equipment that would work best for "SOCIALLY DISTANT" fun!
These products feature little to no contact between participants. We would absolutely encourage the use of gloves, masks, and hand sanitizer for the operating staff, as well as the sanitization of any of the small contact points shared between guests. We have the option of bringing our sanitizing spray, which you can read more about here.
Movie Screens
Looking for a customer/staff appreciation event idea? Tired of arriving at the Drive-In hours early to reserve your spot? Give us a call to chat about our movie screens and A/V packages! We have three screen sizes available to suit any event!
Dunk Tanks
Another great 'socially distanced' product would be our dunk tank. Easy to sanitize if your guests are only given the option to throw. Have people dunk the birthday person on their special day as they are doing their driveby parade! Keep this idea in mind for the following products!
Disc Golf
Add some fun that most of your guests have never tried before! Sanitize the Far Range and Short Range frisbee's after your guests complete the nine holes and your social distance event should remain safe!
Mini-Putt
Another fantastic way to add some fun to your event! Our 9 Hole Mini-Putt is another rental that would require minimum sanitization as you should only need to sanitize the balls and clubs between each participant. 9 holes normally takes several minutes to finish, so there isn't too much pressure on your operating staff.
Axe Throw/Fantasy Sports
Our Axe Throw and Fantasy Sports are easy to sanitize as you would only need to sanitize axe handles, sports balls, etc. Alternatively, you can request all of your guests to wear gloves!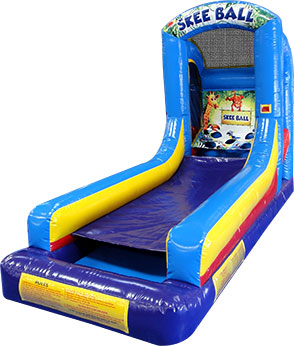 Shooting Gallery
Much like everything else on the list, simply the airsoft guns would need to be sanitized between guests' use!
High Strikers
Consider one of our high strikers (adult or child) for your next event!